"I use Power Automate to synchronise two SharePoint lists, but I don't know how to update the item attachment, what's the best approach?"
---
Very often when you synchronise two SP lists, it's enough to synchronise the columns. With every change in one of the columns you'll do the same change in the second list. But what about item attachments? If users update the attachment, how can you update it also in the second item?
Where is the attachment stored
If you check the output of the 'Get attachments' action, you'll see the location of the attachment. All the attachments are stored directly in the list in hidden folders. It's the folder /Attachments/, followed by the /item id/ and the actual /file name/.

It's a bit different from other files as even though you've got the url, you can't open it in browser. But you can process the attachments as any other file, if you know its identifier.
Don't try to update the attachment
While it might be tempting to try to update the attachment, similar to updating any other file in SharePoint, I don't think it's worth it. Unlike the updates in columns, it's not possible to recognise if there was any change in the attachments. Flow to update the attachments would have to check if given attachment exists, and create or update it later. It would have to process all of them.
Replace the attachment
Since all the attachments are stored in a hidden folder in the SharePoint list, they don't support the standard document features. They don't move to the recycle bin after deletion, nor are they keeping versions. Attachments either exist or they don't. Therefore, if you decide to save some work, you can just delete all the existing attachments and upload them again. You won't lose any functionality nor save API calls.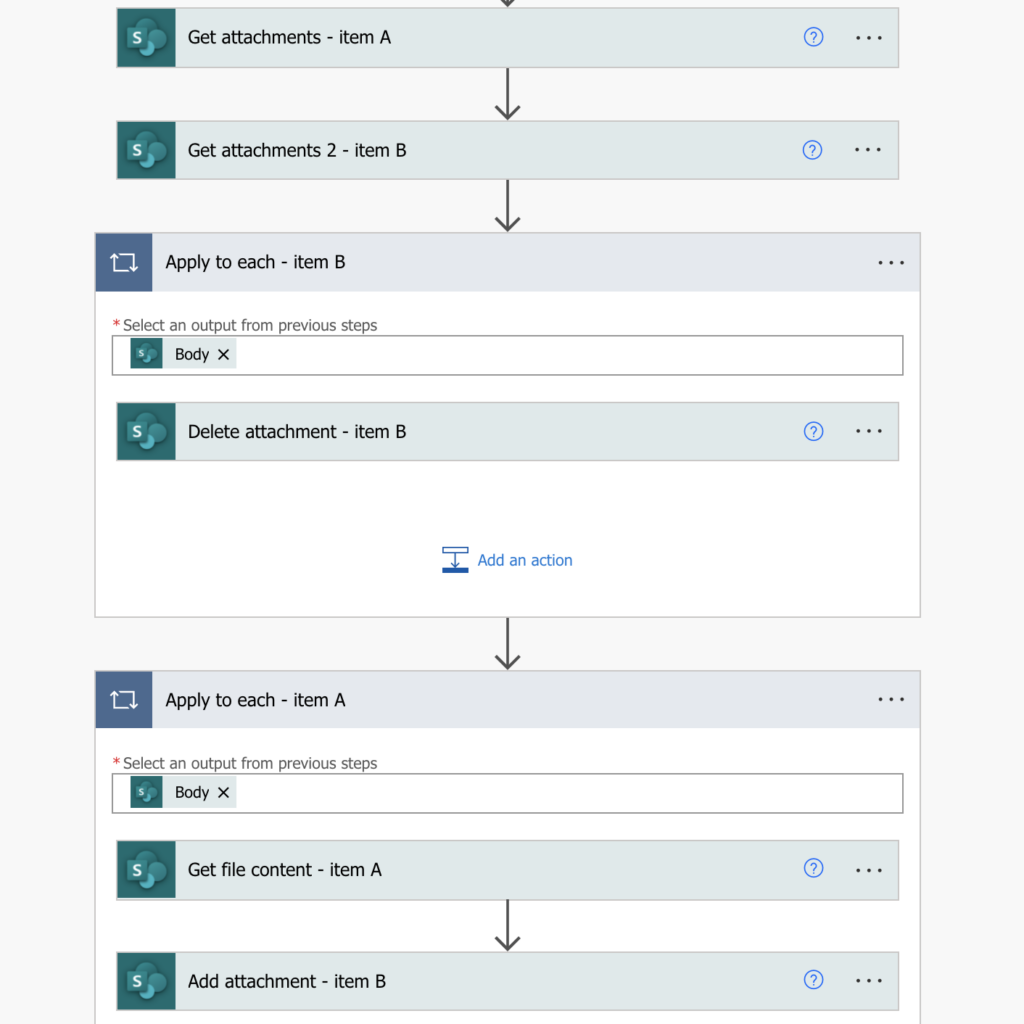 You also don't have to check if the attachment exists, or connect the attachments if there's more of them. Just do a full cleanup and re-upload.
Summary
As you can see, the best approach to update item attachment in Power Automate is to actually replace them. No checking if the attachment exists nor connecting with an existing one. A simple upload and delete will do the trick.
---